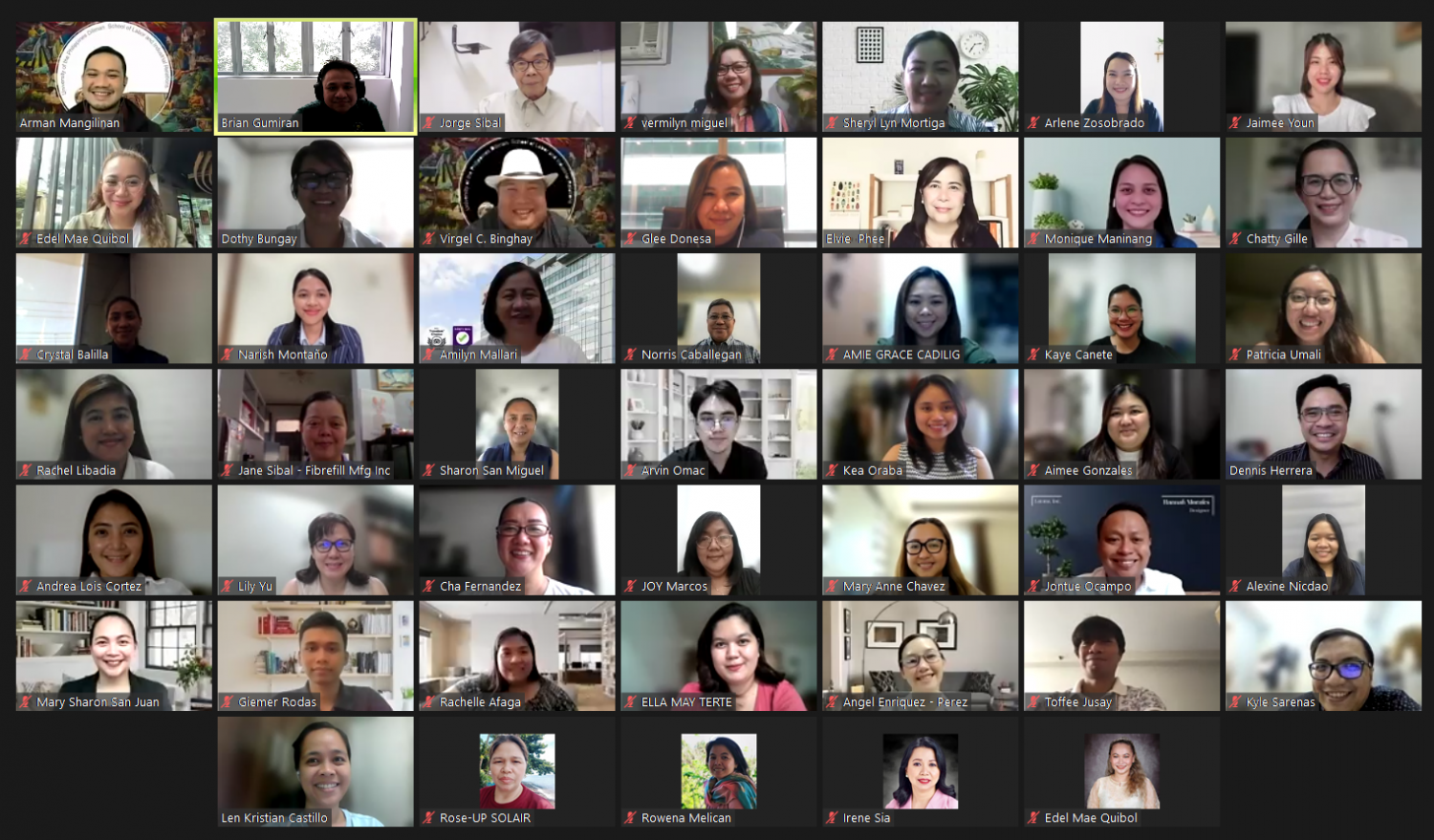 The eighteenth Certificate Course in Industrial Relations and Human Resource Management was successfully concluded. The training program took 12 days, starting on 15th April and ending on 8th July 2023. Its main emphasis was developing competencies in industrial relations and human resource management, addressing the emerging challenges arising from the fourth industrial revolution and the impact of COVID-19 in the workplace. The course provided participants with the latest information on IR and HR practices, including updates on the effects of the pandemic, as well as new regulations, laws, and guidelines at both organizational and national levels.
Forty-four (44) individuals, including junior and senior professionals in the fields of HR and IR from various public and private sectors in and outside Metro Manila, participated in the training program. In addition to actively participating in the sessions, each attendee was tasked with developing and presenting a capstone project to an expert as part of their completion requirements. This event allowed them to apply the knowledge, insights, information, and skills they gained throughout the program.

    We thank all the resource speakers and staff who made the program successful. The program was organized by the UP SOLAIR Center for Industry Productivity and Competitiveness (CIPC), headed by the Program Director, Dr. Virgel C. Binghay. The following subject matter experts facilitated the learning sessions and capstone project presentations: Dr. Rene Ofreneo, Prof. Jorge Sibal, Atty. Chezie Demegillo, Atty. Leo Battad, Dr. Ronahlee Asuncion, Asst. Prof. Benjamin Velasco, Atty. Rosalio Aragon Jr., Dr. Virgel Binghay, Dr. Maragtas Amante, Sophia Francesca Chua, Johnson Aspacio, Janeth Jose, Prof. Rolando Santos, Ginalyn Harder, and Ramon Certeza. Brian Gumiran and Arman Mangilinan served as the program coordinators. The program staff also assured the success of the program: Irene Sia, Ruskin Angelo Cinco, Rosalie Sebastian, Rowena Melican, Jumelyn Villar, Jack Valenzuela, Miradelfina Lumpas, Nelia Vega, and April Galang.   
      On 8th July 2023, the ceremony for the distribution of certificates took place. Dean Melisa Serrano delivered the opening remarks. UP Diliman Chancellor Edgardo Carlo Vistan II honored the event as a guest speaker. The list of course completers was presented by Dr. Virgel Binghay, who also delivered the closing remarks. Mr. Norris Caballegan and Ms. Monica Maninang, representing the participants, shared their reactions to the program and heartfelt appreciation to everyone who contributed to the event's success. Both topped the course summative examination.

      The UP SOLAIR and UP SOLAIR CIPC would like to thank all the participants, resource speakers, capstone project critics, and organizing staff for another excellent event. Please monitor our Facebook page, facebook.com/UPSOLAIR, for further news about the next IRHRM Certificate Course.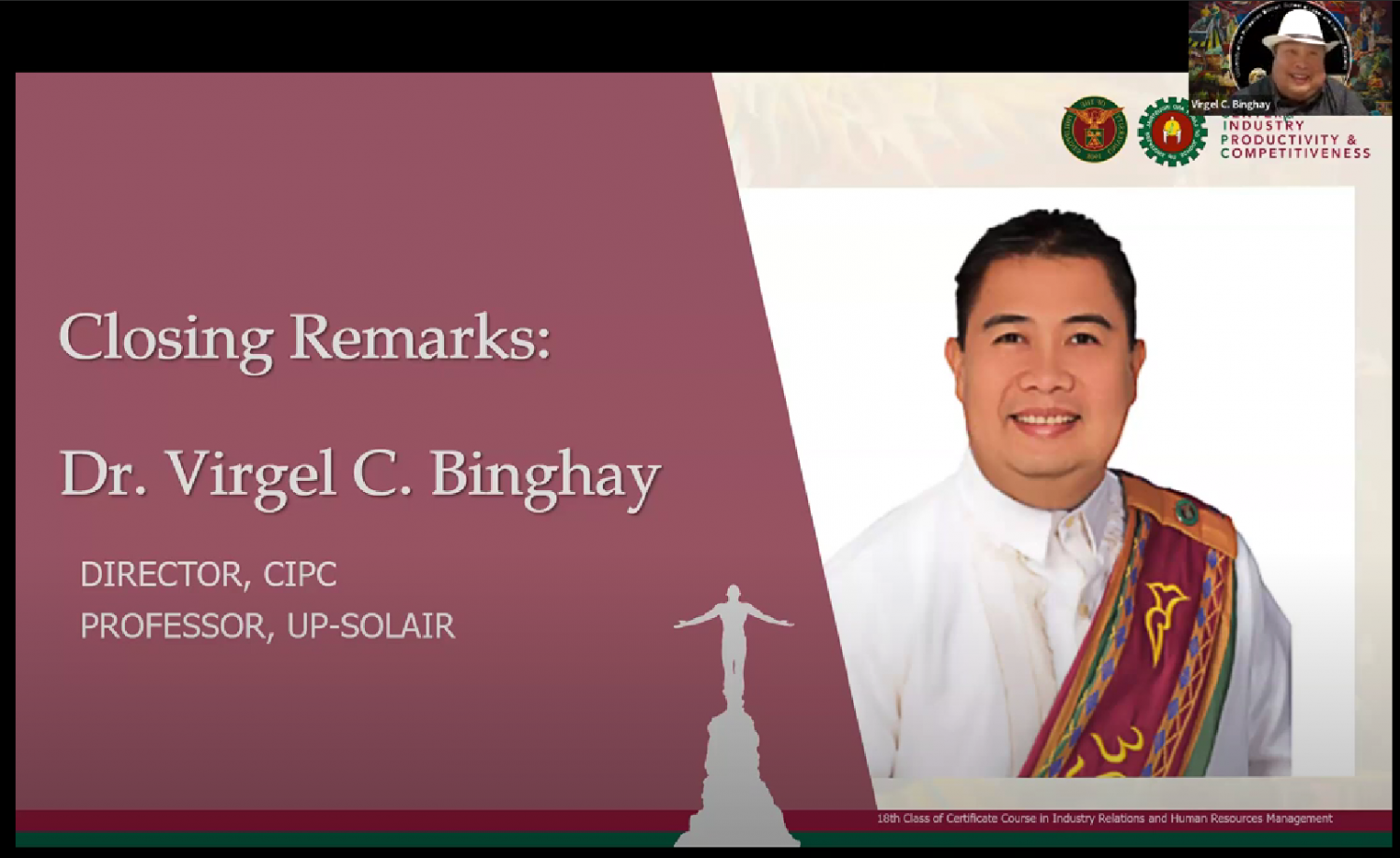 The Certificate Course in Industrial Relations and Human Resource Management is hosted by the UP SOLAIR Center for Industry Productivity and Competitiveness (CIPC), responsible for promoting the program, coordinating with participants and speakers, and facilitating and managing the sessions. The center also conducts other training and research programs related to productivity and competitiveness.