TRABA-HUSAY!
The 4-part Micro-Learning series to Working Better
Motivated by the drive to bolster soft skills development to enable work effectiveness geared towards achieving organizational goals, the graduate students from UP SOLAIR, under the tutelage of Dr. Virgel C. Binghay in IR225: Design and Administration of Training Programs, in coordination with the Center for Industry Productivity and Competitiveness (CIPC), designed and facilitated the free webinar – TRABA-HUSAY: Unleashing the Power of Work Effectiveness towards Unbeatable Productivity and Exceptional Customer Service.
The 3-hour training program was run via Zoom teleconference on June 11, 2023, Sunday, at 9:00 AM. The event began with the National Anthem, followed by a doxology. Ms. Louie Anne Policarpio graciously greeted the participants in the virtual venue. Mr. Arman Mangilinan of CIPC, UP-SOLAIR, moderated the entire learning session. Of the 127 participants, nearly 85% percent were employees and professionals, while the remaining 15% were students and active job seekers.

TRABA-HUSAY
consisted of four segments, each related to a common and in-demand soft skill in the workplace, presented as follows:

1.    Work Better: Mentally, focused on Critical Thinking
& Problem Solving (Traba-Husay sa Pagsuri at Paglutas) was discussed by Ms. Ana Yranela-Lim;

2. Work Better: Verbally, which talked about Effective
Communication (Traba-Husay sa Pakikipag-usap), was presented by Ms. Louie Anne Policarpio;
3. Work Better: Socially, which tackles Relationship
Management (Traba-Husay sa Pakikisama) covered by Mr. Conrad Esguerra; and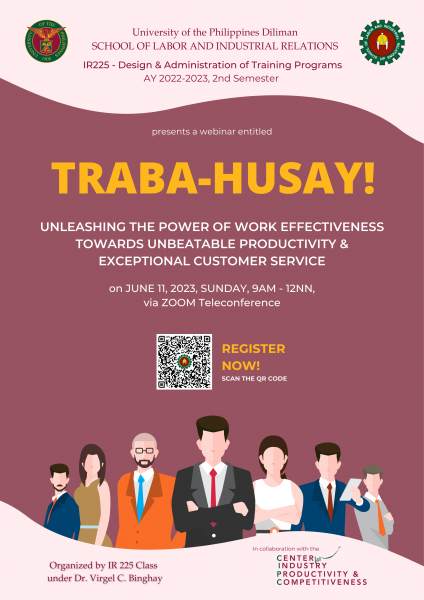 Traba-Husay webinar poster
4. Work Better: Professionally, which discusses Business Etiquette and Professionalism (Traba-Husay sa Pakikitungo), handled by Ms. Nikko Bautista-Nebres.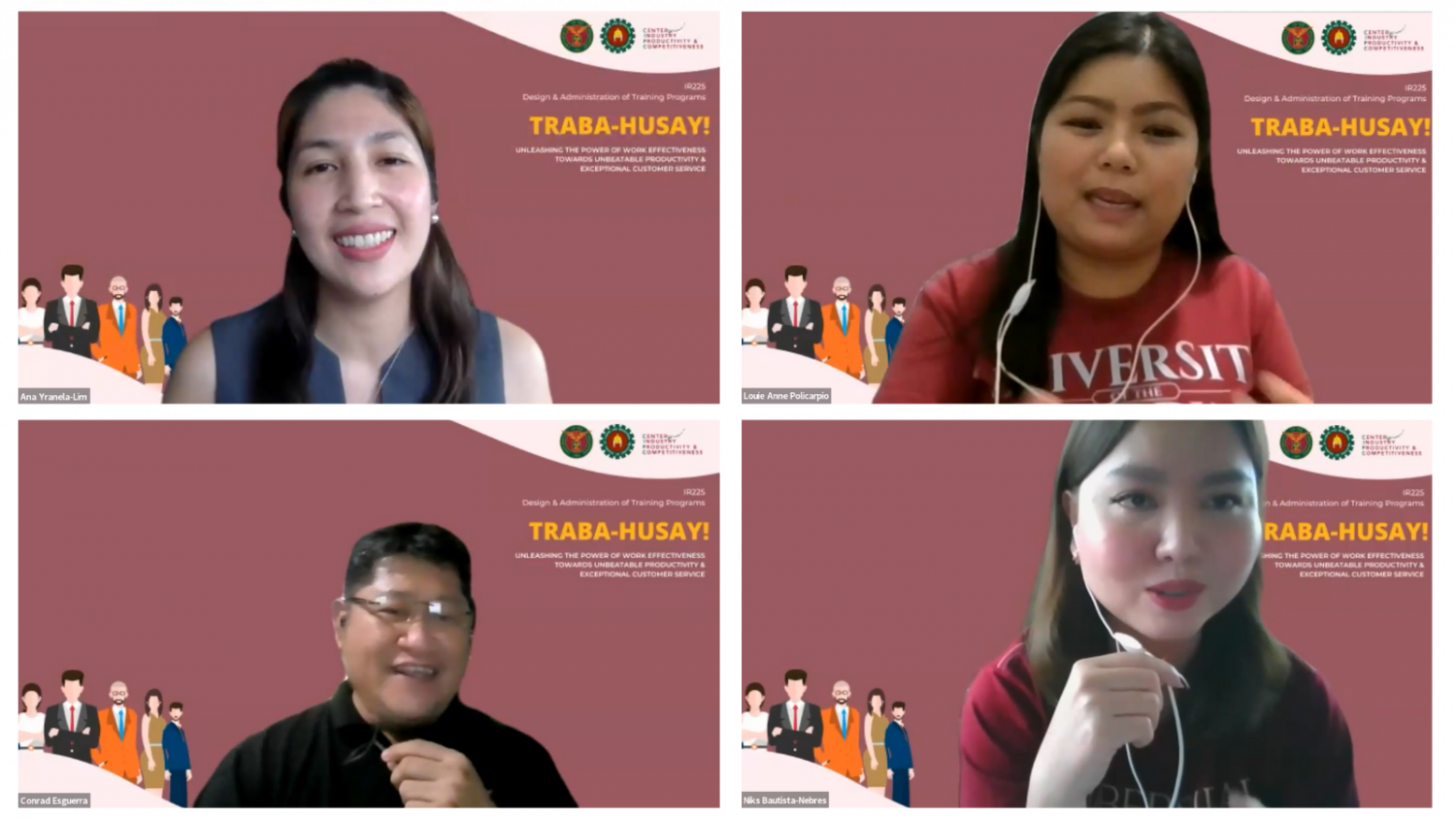 Captured screenshots of the Traba-Husay speakers and organizers engaging in the question-and-answer segment of the webinar
Comprehensive presentation materials, brainteasers, video clips, and comprehension checks in gamified activities and pop quizzes were wielded to aid retention and appreciation of concepts introduced. GCash prizes await the eight winners of the exercises, which included special citations like the Early Bird and Curious Cat awards.
Weeks before the program, the pre-training diagnostic was employed to study the demographics and learning needs of the participants for the organizers to carefully curate relevant topics and activities for inclusion to maximize learning. A post-training evaluation was administered toward the end of the training to assess program implementation. The instrument also included a personal action plan for participants to map out when and how they intend to apply the strategies to hone their soft skills. 97% of the participants recommended the webinar should there be another run.
Overall, there was an overwhelmingly positive response from the attendees. Highlighting a few of their verbatim comments lifted from the post-evaluation survey:
"Very effective session" – Mark
"Good discussions, exciting activities." – Ramona
"Good Job. I hope to have more webinars like this in the future. Thank you!" – Jean